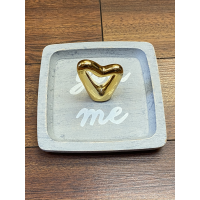 Wooden "You & Me" Jewelry Ring Dish Tray
Wooden  "You & Me" Jewelry Ring Dish Tray
This ring dish tray crafted from wood, painted gray for a slightly weathered look and features a golden heart  

in the center with the words "You" and "Me" in white text.

.

 

This ring dish will complement your dresser or mirrored vanity by helping you keep your rings and small jewelry trinkets organized.

Measuring 2" x 4 1/4" x 4 1/4".

Place rings, bracelets, earrings and other jewelry items on the center or use surrounding area in dish. Makes a great birthday, anniversary and wedding gift.