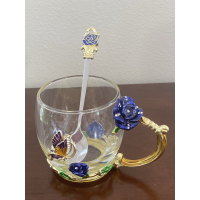 Flower glass tea mug, lead free handmade butterfly and blue rose glass cup. Perfect for Mother's Day Gift. Ideal for best friend, wedding anniversary, birthday present, other important days for that special someone.

This beautiful glass cups, decorated by Flower and butterfly, it is great gift for family, friends or that special someone, Collect for your own use as well. The clear, translucent glass mug will become your favorite glassware, and it can even be used as a decorative piece for your kitchen and house. Heat-resistant.
This tea mug comes with its own matching spoon. The matching spoon is stainless and it can withstand the temperature of hot drinks, so don't be afraid to use it, even if your beverage is boiling hot.

Made of Heat resistant glass,12oz Capacity, blue color. Included: 1Glass Mug , 1Spoon, 1Drink Coaster , 1Cleaning Cloth.