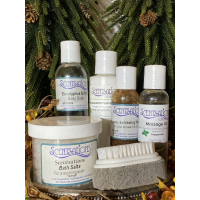 Put your best foot forward with our Pedi-cure box!
Perfect for the person on the go!
Soak your feet in 2 tablespoons of Salt Lake Sea Salts and warm-to-hot water for at least 10 minutes.
Suds your feet with our invigorating Eucalyptus & Mint Body Soak.
Gently exfoliate your feet with our refreshing Organic Exfoliating Body Wash. Great for all over exfoliation, fabulous on feet!
A pumice tool is included to make the job easier.
Or create your own Salt Glow with the remaining salts and Peppermint massage oil.
Massage your feet with a little bit of oil. Follow with our soothing Peppermint Foot & Leg Lotion.
Tuck your toes into socks. Put your feet up and relax!

 Just the perfect selections to keep your feet at their barefoot best!

Includes:
1-4 oz. Eucalyptus & Mint Body Soak
1- 4 oz. Peppermint Foot & Leg Lotion
1- 2 oz. Organic Exfoliating Body Wash

1- 2 oz. Massage Oil

1- 4oz. Bath Salts

1-Pumice Tool