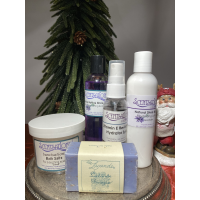 Always our most popular gift box – infused entirely with organic Lavender essential oil.  Lavender—a sweet-green, floral-herbaceous perfume, with a hint of woodiness.
 It soothes, calms and harmonizes, relieving nervous tension and irritability. This gift box of relaxation is perfect to give or take a moment for yourself and indulge. 
Includes:

Lavender scented Bubble bath and Shower Gel, 4 oz.
Lavender scented Natural Shea Butter Revitalizing Lotion, 4 oz.
Lavender scented Bath Salts, 4 oz.
Lavender French Soap
Lavender Vitamin E Revitalizing Spray and body Mist, 2 oz.