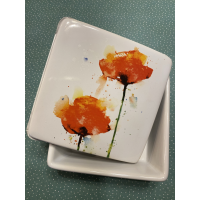 Box - DC Poppy Lidded Vanity Box
Poppy Decorative Lidded Vanity Box features a Poppy flower; Vibrant watercolor painting brings exquisite beauty. 
Box is made of ceramic stoneware with watercolor red finish; Breathtaking imagery of mighty wildlife will enliven your décor; Beautifully designed vanity box for your bathroom.
Decorative box measures approximately 4.13 x 4.13 x 1.75 inches; Perfect, compact place to store your everyday necessities; 
Uniquely designed to fit your personality 
Perfect gift for Valentine's, Mother's Day; Any mother, grandma, sister, or daughter would love this vanity box for her rings, lipstick, or other makeup.