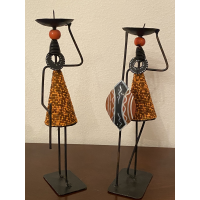 Candle Holders - Set of 2 Beaded Maasai
Maasai Couple Beaded Candle Holders
Embrace the atmosphere and beauty of Africa with this Maasai Couple candle holder set. Completely hand-crafted in Kenya, this set comes in assorted colors and is meant to be used with taper candles. 9.5" tall. Made with Maasai beads.