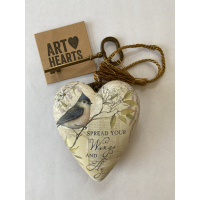 Art Hearts - Spread your Wings Art Heart
Each Art Heart is unique and serves a different purpose. This one serves as a reminder to "spread your wings and fly." A thoughtful gift for a mother, aunt, grandma, sister, or even yourself! Perfect to use as a desk decoration at work or at home.
Each heart-shaped gift features a colorful illustration from a popular DEMDACO artist, expressing sentiments of love, friendship, celebration and thoughtfulness. Engraved with the artists' names, these heart tokens come with specially designed packaging to create beautiful, heart-shaped gifts that will be cherished. An Art Heart can be hung by the tasseled cord as a heart ornament or displayed as a heart sculpture with the unique key stand. 
A gift-ready sculpture with inspirational message for that loving friend in your life. Great gifts for celebrating milestone moments or just because.
Heart by Art Hearts Collection Resin, Metal, Paper, Nylon.
Size: 3.5"w x 3.5"h
Copyright: © 2019 Susan Winget for DEMDACO